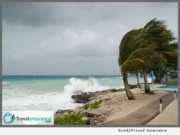 NEW YORK, N.Y., May 22, 2019 (SEND2PRESS NEWSWIRE) -- The Atlantic Hurricane Season got off to an early start this year, with Subtropical Storm Andrea forming on May 20, 2019, marking the record fifth year in a row that the hurricane season arrived early. This, along with experts predicting an above average hurricane season, means that travelers could be facing an uphill battle, according to TravelInsurance.com, a leading online comparison site.
LOS ANGELES, Calif. /California Newswire/ -- Teenagers finally have a product line that they can identify with that offers real solutions for frustrating acne breakouts. TEENOLOGY, LLC has launched a unisex hair and body care product line that's specifically formulated for teenagers and leaves out harmful ingredients often found in other products.
ORLANDO, Fla., May 22, 2019 (SEND2PRESS NEWSWIRE) -- Bakers everywhere know the importance of using quality ingredients in their products. Take vanilla beans for example -- their unique flavor can enhance the worlds of both savory and sweet foods. However, according to Native Vanilla, an Orlando-based vanilla provider, vanilla beans can be challenging to find, purchase and have delivered to your door in a timely manner
NEW PORT RICHEY, Fla., May 22, 2019 (SEND2PRESS NEWSWIRE) -- C Diff Foundation, a one hundred percent volunteer, world renowned 501(c)(3) not-for-profit organization, has appointed nationally renowned Gastroenterologist, Dr. Paul Feuerstadt as its first Director of Medical Education.