SHENZHEN, China, April 11, 2019 (SEND2PRESS NEWSWIRE) -- Recoverit Data Recovery for Mac from Wondershare holds the ability to recover the deleted data easily and safely. Be it USB Drive, hard drive or any other media on Mac, it is completely supportive. The best part about this Mac recovery software is it manages to recover trashed data in a hassle-free manner.
SAN LEANDRO, Calif. /California Newswire/ -- Installing a commercial air filtration system is not a magical solution for air pollution control, says Matrix Systems. These complex systems require several services in order to make sure that the system functions as designed. Here are five services that needed to keep a commercial air filtration system running effectively after installation.
HUMBLE, Texas, April 11, 2019 (SEND2PRESS NEWSWIRE) -- Forged Components Inc. (FCI) has released a sheet listing the benefits of getting ASME pressure vessel connections forging needs met by FCI. Why select us? Forged Components is one of the ASME pressure vessel connections manufacturing. What makes us so good at what we do?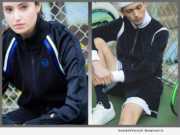 NEW YORK, N.Y., April 11, 2019 (SEND2PRESS NEWSWIRE) -- Sergio Tacchini ("ST") officially announces a strategic partnership with GMI USA that will have the exclusive rights for ST apparel and shoes in the United States. The agreement is very important for the Italian sportswear brand who has now a professional partner for the distribution of the brand in the U.S.
ADDISON, Texas, April 11, 2019 (SEND2PRESS NEWSWIRE) -- Mid America Mortgage, Inc. announced today that it has hired Kerry Webb as Executive Managing Director of Business Development. In this role, Webb will be responsible for recruiting, managing and motivating teams of mortgage professionals to meet and exceed productions goals that align with the overall company's strategic volume growth and profitability goals.
PROVO, Utah, April 11, 2019 (SEND2PRESS NEWSWIRE) -- Simplifile, a leading provider of real estate document collaboration and recording technologies for lenders, settlement agents and counties, today announced it has promoted Mark Moats to Vice President of National Accounts. Moats previously served as a Regional Sales Director for Simplifile and has been with the company for nearly 13 years.