ATHENS, Ga., Dec. 3, 2018 (SEND2PRESS NEWSWIRE) -- FormFree announced today that Faith Schwartz, a member of FormFree's board of directors and the company's acting president, has been honored with HousingWire's 2018 HW Vanguard Award in recognition of her career contributions to the housing finance industry.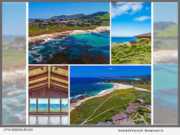 CARMEL, Calif. /California Newswire/ -- Jonathan Spencer Properties has announced a rare opportunity to own an oceanfront slice of heaven in sought-after Carmel Meadows. To live in Carmel Meadows is to live in arguably one of the most gorgeous and glorious places imaginable. At over 4,200 square feet, this 5-bedroom and 3.5 bath property offers a beautiful canvas for the next owner to create a showpiece refuge in an exquisite setting that captures the senses and inspires the mind.
LOS ANGELES, Calif. /California Newswire/ -- Mortgage Quality Management and Research, LLC (MQMR) announced today that its President Michael Steer has been recognized by HousingWire magazine in its fourth annual 2018 HW Vanguard Awards(TM) program. Steer was honored for his efforts in building a diverse workforce and establishing a strong corporate culture that values employee feedback and community service.
NEWPORT BEACH, Calif. /California Newswire/ -- NotaryCam, the leader in online notarization and original provider of mortgage eClosing solutions, today announced that its Founder and CEO Rick Triola has been named a 2018 Vanguard by HousingWire magazine as part of its fourth annual HW Vanguards Awards program. In the magazine's profile on Triola, the HousingWire editorial staff noted Triola's role as a "pioneer in the field of digital mortgages."
JASPER, Ala., Dec. 3, 2018 (SEND2PRESS NEWSWIRE) -- DAPA Products, manufacturer of upholstery and fenestration products, shares ideas on how to take upholstered furniture and furnishings to the next level with welt cords. DAPA Products innovated the industry with the launch of Foam Welt Cord and Foam Screen Spline, which reduced the incidents of carpal tunnel syndrome in workers who installed screen spline in windows and doors. (VIDEO)
MACON, Ga., Dec. 3, 2018 (SEND2PRESS NEWSWIRE) -- LBA Ware, provider of the leading automated incentive compensation and sales performance management platform for mortgage lenders, announced today that company Founder and CEO Lori Brewer is a recipient of HousingWire's 2018 HW Vanguard Award.
LOS ANGELES, Calif. /California Newswire/ -- Canadian medical students and graduates are facing limitations and challenges when it comes to finding credible medical residencies. Residents Medical is offering solutions.
MESA, Ariz., Dec. 3, 2018 (SEND2PRESS NEWSWIRE) -- C.A.I., A Cardiovascular and Arrhythmia Institute cardiology clinic in Mesa, Arizona shares tips to recognize warning signs when it's time to see a cardiologist. Approximately one in four individuals die from heart disease each year in the U.S., with coronary heart disease being the most common. (VIDEO)
LOS ANGELES, Calif. /California Newswire/ -- Bank of Southern California, N.A. ( OTC Pink: BCAL / OTCMKTS:BCAL ), a community business bank headquartered in San Diego, Calif., is pleased to announce its continued expansion in Los Angeles with the opening of a new production office in West Los Angeles.
ATLANTA, Ga., Dec. 3, 2018 (SEND2PRESS NEWSWIRE) -- JenCap Holdings LLC (JCH), a specialty insurance business, announced today that it has agreed to acquire privately-held Risk Innovations LLC, a specialty wholesale insurance broker based in Atlanta, Georgia. Financial terms were not disclosed.
DANIA BEACH, Fla., Dec. 3, 2018 (SEND2PRESS NEWSWIRE) -- The City of Dania Beach Community Redevelopment Agency is proud to announce that the Dania Beach People's Access To Community Horticulture (PATCH) is preparing to launch five Mobile Market sites around Broward County. Known as a community market and garden, the Dania Beach PATCH is a resource for locally grown food. Now, the PATCH is extending healthy food options to neighboring cities in Broward County through the use of mobile markets.